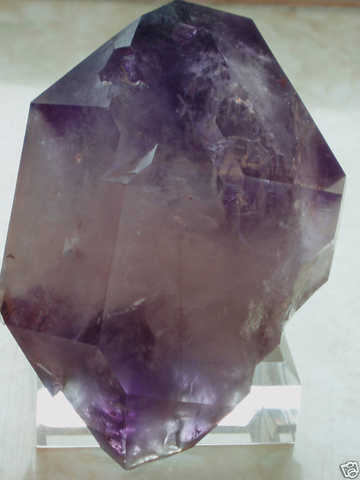 Description: Amazing Double Terminated Amethyst!

Jackson's Crossroads, GA, USA

3 1/2 x 3 x 2 inches, 330 grams - HUGE for the locale!

This is a classic piece from a mine that has produced some of the finest amethyst in North America. The crystal is saturated with beautiful blue-purple grape jelly color on both ends with some paler quartz in the center for contrast. Some self-healing has occurred on the back side, creating an almost "elestial" look. It is rare both in size and quality, a true American gem at an incredible price!


I have been collecting for about 25 years, and I'm back to release some lovely pieces from my collection. I am not a geologist, but I will share what I know of the age and origin of specimens. All items come from reputable mineral dealers and auctions from all over the U.S.. I have chosen minerals for their rarity and beauty and know that you will be satisfied with your purchase. No returns, please, unless I have grossly misrepresented an item. Most pictures were taken with natural sunlight.